We're Hiring Bike Techs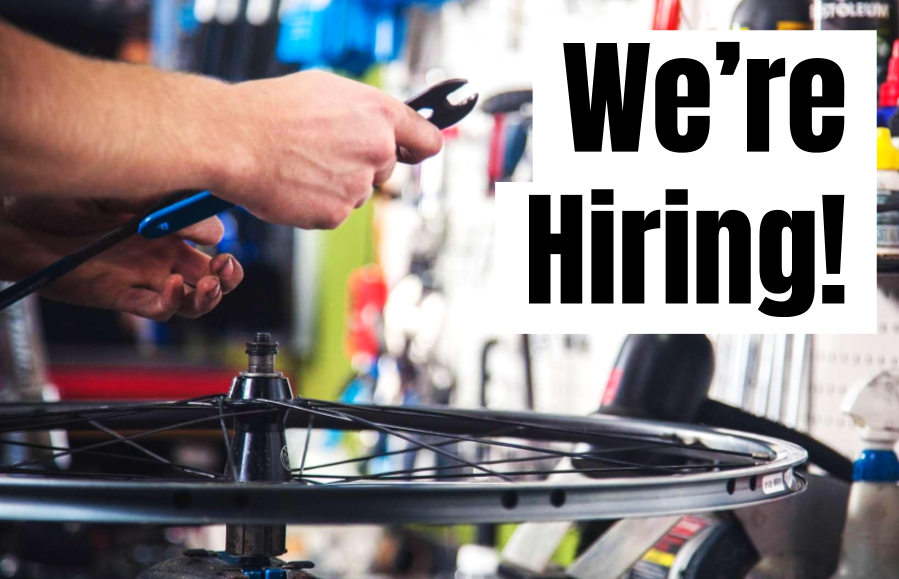 Sportwheels Service Shop Technician.
Full-Time & Part-Time positions available.  
Overview
Service Shop Tech / Customer Service / Parts Counter - As an active team member you would be required to interact with customers, assess their needs, create work orders for other team members to follow, setup, repair, and maintain customer sporting equipment all while preserving a completion deadline. We are always willing to train employees that show drive, mechanical aptitude and personality.  We are looking for a person who not only values their team mates, but can work on your own to a high level. We are looking for someone who has a few years of experience under their belt with a wrench working on their own personal bikes or friends, with a good head for customer service.
Skills We Are Interested In
Assembling/disassembling different types of bicycles. 
Wheel building, wheel truing, tire changing
Knowledge of hydraulic brake operation, and repair
Repairing various styles of brakes
Crank arm replacement, change and tune derailleurs
Brake and shift levers and cables
Headset overhaul, chain check and replacement
Maintain a clean and organized work area
Mechanical aptitude and experience working with tools
Comfortable working with targets and deadlines
Must be able to lift up to 50 pounds
Must have the ability to bend, crawl, stoop and stand for long periods of time
Advanced knowledge and use of parts and maintenance procedures
Personality Assets We Look For
- Currently participating in sports and activities, and passionate about living a healthy, active lifestyle.
- Strong work ethic. We require your commitment to be fully engaged when at work Dependability
- Willingness to perform duties outside of their normal responsibilities
Creative at problem solving with empathetic and positive attitude
- Available to work a varied schedule of days, evenings, weekends and /or holidays
- Excitement to join us in supporting community events that we may be involved with
- Willingness to learn new skills, both inside and outside Sportwheels
- Past service shop experience would be ideal, but not required
About Us
Sportwheels Sports Excellence is an independent sporting goods store located in Lower Sackville, Nova Scotia. This family owned business has been operating for over 70 years as a Giving Forward business. Every purchase helps provide equipment and registration for children in need all across Atlantic Canada. Some of the things we offer but are not limited to is, flexible scheduling, competitive wages, aggressive staff discounts, and above all a family work setting.
Are you the type of person who wants more than just a job, and would like to join us in making a difference in our community? Send us a 60 second video and/or your resume to

[email protected]