Product description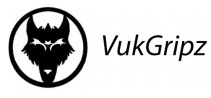 Hockey Stick Grip | Hockey Tape
VukGripz is coming at you with yet another top performance and slip resistant product in the market!  Our American Made hockey tape is already at the top of the game in slip resistance and its brand new! Our hockey stick grip does not absorb moisture from sweaty gloves or from the ice! The benefit to this is having hockey tape that will not get heavy or replaced! We understand that tapping your hockey stick may be a ritual for some players. Well, we are creating a better ritual with a better product!
Thickness
We compare our hockey tape to athletic tape! We describe the thickness of VukGripz Hockey Stick Grips to about 2-3 pieces of athletic tape thick!
Wrapping
Hockey players are given the option to wrap their hockey stick grip with an overlap in it for extra grip or edge to edge, so it feels like one piece of tape! A very helpful tip with our hockey tape is to make sure NOT TO PULL or OVERSTRETCH!
Reusable
That is right! You can take our hockey stick grip off of one stick if it breaks and apply it to a new hockey stick! Be sure to watch our video on how to do this at least once to make your experience super easy!