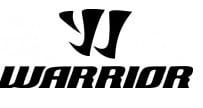 Help build power in the box with the Warrior Fatboy Burn Warp Next Black Lacrosse Stick. This box lacrosse stick features a warp mid-pocket with large diamonds for easier ball retention and enhanced energy transfer.
Meets all NFHS, NCAA, CLA, and FIL men's indoor and outdoor specifications
Features a Burn Warp head and FATBOY Kryptolyte shaft, perfect for developing box players.
Includes a Warp Mid-pocket designed with larger diamonds to improve hold and shot power.
Warp pocket requires no adjustment and comes game ready with an unchanging, weather resistant pocket that is hassle and maintenance free.
FATBOY Kryptolyte built in our traditional speed shape provides balanced feel and strength.