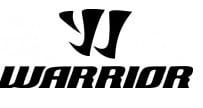 Warrior has brought their high-end Pro level sticks to retail stores. The Warrior Swagger Pro LTE2 sticks are all made in the Finland Pro factory which gives incredible attention to detail and high quality to the sticks.
Starting with the base of the stick, the paddle and blade are made of an Ultralight thin polyurethane foam core which gives the paddle and blade a thin and lightweight design. Throughout the blade, there is an ABS tough strip to increase durability and help redirect pucks to the corner.
There is an ABS insert in the heel to keep structural integrity and improve overall wear. The shaft of the Swagger Pro LTE2 is a mix of Birch and Aspen wood with a glass laminate which is designed to reduce weight but also provide a stiffer stick over time.
Finally, the Swagger Pro LTE2 has a clean natural look to provide a great visual look and even reduce weight.
Quick-Mid Curve Pattern.