Product description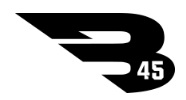 With so many options in Pro Select Stock bats, we can not show every bat image.  Model colors and sizes are in the dropdown menu!  Grab your B45 bat today...these are HOT!
Hard like maple and flexible as ash, B45 bats have a significantly lower breakage rate enhancing hitting performance, lowering overall cost, and adding a measure of safety to the game.
Approved for professional play for more than a decade, B45 Yellow Birch bats are still proudly handcrafted by former pro players who know the ins and outs the game and the importance of swinging a quality bat. Whether you are playing in the Show or in your Sunday morning league, our bat makers handcraft bats with the same passion and precision that will end up being the right product for you.
C$139.99