Product description
Pushing the boundaries of stick technology, the Bauer Nexus E5 Pro Senior Hockey Stick will be the lightest stick ever at this price point.
Bauer is sticking with their fantastic ER SPINETECH, a 5-sided shaft geometry that allows for less carbon fiber layers in the key loading area of the stick. This will benefit the stick in numerous ways. The 5-sided shape provides a unique feel which helps to contour to the players hands for maximized feel and control. It also creates a faster energy transfer to the blade. Combine that with the optimized mid-kick flex profile that allows you to lean into your shots easier, and you have a stick that allows for powerful and quick shots alike.
The shaft of the Bauer Nexus E5 Pro features Bauer's Hexcell carbon shaft technology. This is a lightweight carbon fiber material that is strategically layered to reduce weight while increasing shaft strength and durability. This will give the player consistent and powerful energy flow through the stick with ever shot. This allows the stick to be a lightweight 390 grams.
The Nexus E5 Pro has also been designed with Bauer's exclusive one-piece molding process that provides ultimate balance and control when shooting, passing, and stickhandling. This provides consistent energy flow throughout the player and stick in any situation on the ice.
The blade of the Nexus E5 Pro, Bauer is using Dualcell Bridgecore technology which is a special foam with carbon bridge that adds stability and control in key strike zones throughout the blade. This allows for a strong blade with great control.
KEY BENEFITS
Special foam with carbon bridge in key strike zone adds stability and control with each play
The lightest second price point stick ever developed
Consistent and powerful energy flow through the stick with every shot
5-sided shape removes extra material for easier flex in key loading zone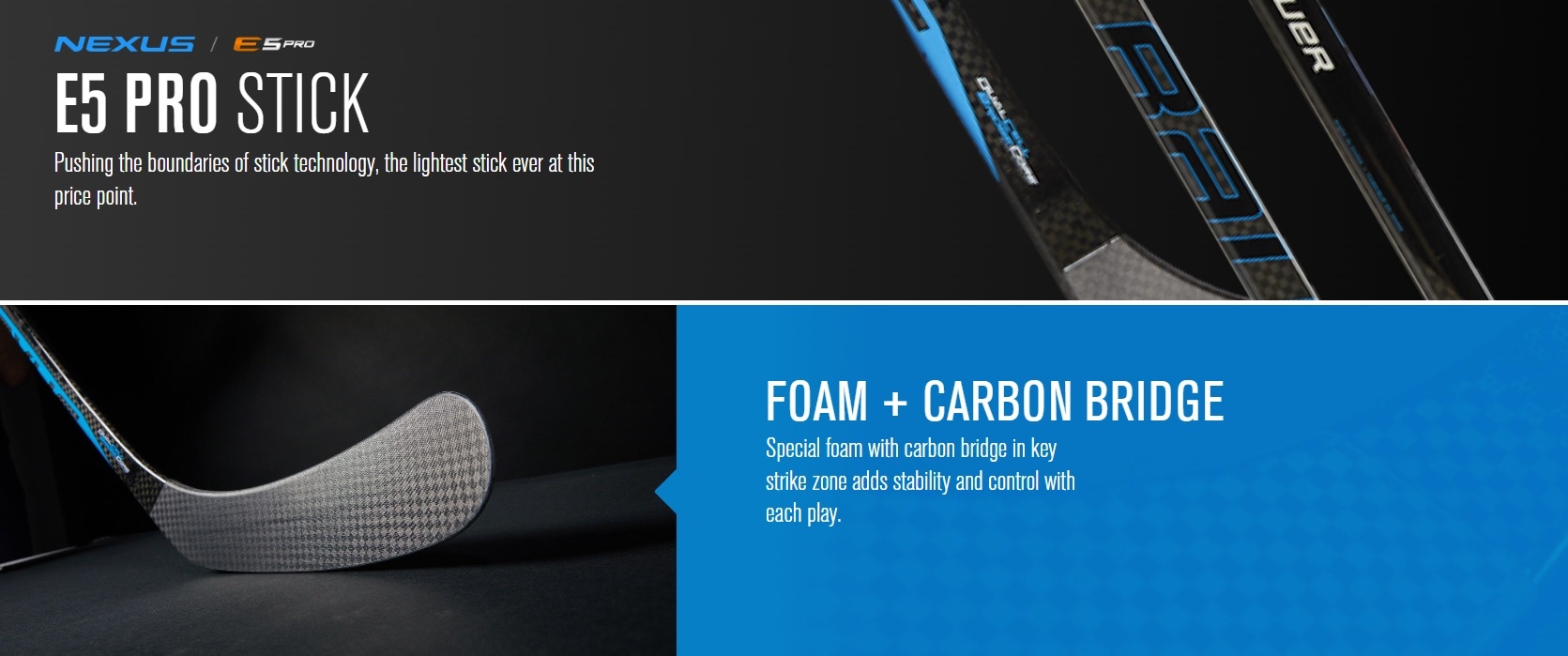 ~