Product description
Pop, Drop, & GO.
GU Hydration Drink Tabs are designed to keep you hydrated during any activity and in all conditions. Tablets are easily dissolved in 16 ounces of water, perfect for dropping into a sport bottle or bike bottle for hydration on-the-go. The light, effervescent tablets are also appropriate for everyday use, during training, travel, and hot weather, or anytime you need a hydration boost. The 12-tablet portable tubes easily fit in pockets, jerseys, and running belts. All flavors are caffeine-free and made with vegan ingredients.
ORANGE - Strong, juicy, and tangy, this flavor packs a zesty, refreshing taste into your hydration. OJ is not just for breakfast anymore now that we have it in a dissolvable, portable, juice-flavored tablet designed for anytime hydration.
LEMON LIME - No flavor screams hydration quite like lemon lime. This classic, refreshing taste with a touch of sour is a go-to in the heat. Not only does it quench summertime thirst, but the electrolytes keep you hydrated to get you across the finish line feeling good.
STRAWBERRY LEMONADE - Strawberry Lemonade is a combo too delicious to pass up. The sweet flavor of a bright red strawberry is perfectly matched by the zip of tart lemonade. Pleasantly refreshing and just sweet enough to make the taste buds smile, this flavor never gets old.
TRI-BERRY - Not just for triathletes, Tri-Berry is a tasty way to pack your electrolytes into your hydration. A delicious blend of berry flavors in one dissolvable tablet, this flavor delivers a refreshing combination of fruity and tart notes. Give it a "tri"!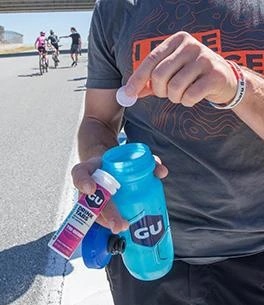 C$3.75 Excl. tax

C$2.49 Excl. tax
C$9.49